"CEO & People are the Ultimate Brands."
- Global Brand Consultancy Leveraging the Value of CEO and People -
Superior companies, products, and services are all created through people cooperating with each other. The organization is segmented by "people." The charm of people and the strength of the corporation are integrated in the brand power and become stronger.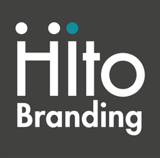 What is "HITO Branding" ?
- It's our original method to build
corporate brands focused on "people."-
People are not satisfied with only good products and services in this materialistic world.  Good products can be copied by other companies and as a result price competition becomes more severe.
Companies are chosen by customers on the basis of the company's "hidden assets" such as corporate philosophy, passion for customers, and the company mission that all created by people. In fact, companies, products, and services chosen by customers aware of these values can be enhanced loyalty and satisfaction. These companies are competitive and at an advantage concerning price competition.
To achieve these goal, we offer to create the strategic brand contents as well as consulting.
Business Philosophy
Internationality

WE CONSIDER YOUR CHARMS AND CAPABILITIES ON A GLOBAL SCALE.

What may be lowly esteemed in one's own country may be highly valued in another. To realize that possibility, we endeavor to be your realiable partner in creating a brand for you.

Creativity

WE VALUE CREATIVITY.

As our client's representative, we incorporate our client's unique charms and capabilities as we oversee the complete marketing process, from the initial planning to the launching.

Reliability

WE VALUE LONG-TERM RELATIONSHIPS WITH OUR CLIENTS.

Creating a long-lasting, universally recognized brand takes time and commitment. We aim at cooperating with our clients as the client's brain in developing the brand until the process is finally completed.
Who We Are
Katy Horiuchi

Co-founder
Global Producer

Katy Horiuchi was born in Osaka City and graduated from Kansai Gakuin University with a degree in psychology. Upon graduation, began working in the trade section of the Sakura Color Products Corp. It was then, while pioneering marketing opportunities in Eastern Europe, she became attracted to the field of international business.

With an eye on developing skills in the international business field, she entered Northwestern University/The Kellog School of Management(full-time MBA) where she majored in Marketing and earned a master's degree in business administration.

After that she worked in Kansas and California in IT venture companies during the intense IT bubble years. After returning to Japan, she worked for large foreign companies like Lucent Technologies and Vodafone where she was engaged in strategy planning and global product development. She was involved in drawing up middle and long term plans and headed major projects, such as a business partner program startup and and development of mobile phone services for businesses.

After 13 years of business experience, in August of 2005, a son was born to her and her husband, Hidetaka. The following year, she helped her husband start H&K Global Connections. A typical Osakan, she aims at being an engaging international businesswoman while at the same time she devotes herself to taking care of their young son.

Hide Horiuchi

Co-founder
Creative Marketer

Hidetaka Horiuchi was born in Takarazuka, Hyogo Prefecture and graduated from Konan University.

He joined the international retail company "Yaohan" and went to study a special course at an American University. While there, he learned that Yaohan had gone out of business.

After working for a while in an American marketing consulting firm for Asian marketing project, he worked at Japanese branch of a high quality German furniture maker "Wilkhahn". There he learned the importance of business philosophy and design.

Next he joined the international language school, "Berlitz", a language school with branches in many countries around the world. His responsibilities included "Internet","Advertising" and "Public Relations", through which he gained general marketing skills. The number of users of the English learning services he produced for the company's website grew to the tens of thousands.

In 2006, he and his wife started H&K Global Connections. As the father, he aims to keep balance of both successful business and family life. He sets aside a portion of each day to spend time with his family.
Company
H&K Global Connections is an Global Brand Consultancy Leveraging the Value of People. We exist to assist in the marketing activities of those who want to create their own corporate brand and expand into the global market.
Company Name

H&K Global Connections Inc.

Established

March 3, 2006

Co-founder/
President

Katy Horiuchi

Business Description

Marketing / Brand Consulting,
Branded / PR Contents Produce (Web, Video)

Address

Osaka / Tokyo, Japan
 (Weekdays: 9:30-17:30)

Bank

Tokyo Mitsubishi UFJ Bank, Toyonaka Branch
Company Logo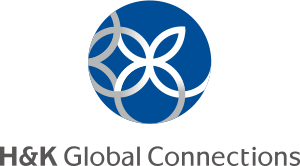 Color

A combination of blue, grey and white combine to represent the borderless sea and sky, integrity, reliability and hope.

Shape

The blue circle represents the global earth, the seven-treasures figure represents a wide network of people. The lines of the white flower coming from the seven-treasures figure represent a new brand born of the world-wide human network.

*Overlapping Circle ; The Seven Treasures (Shippo)
The overlapping quarter-circle is also called the seven-treasures connector. The origin of the seven treasures figure is X a phrase meaning to spread in all directions. The word, "Shippo", meaning "all directions" is pronounced the same way as (Shippo) meaning "seven treasures." The seven-treasures figure was used instead.