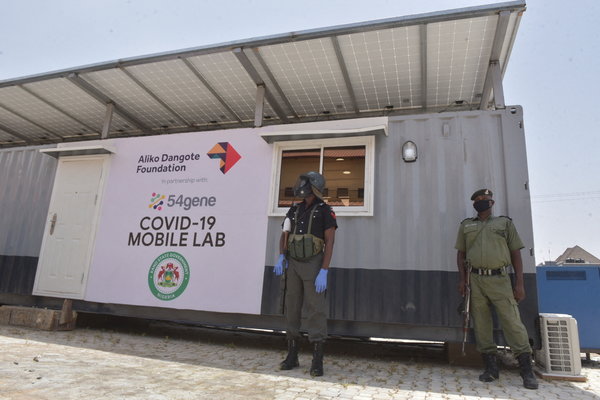 COVID-19 CHALLENGES AFRICA TO FIGHT BACK: THE CASE OF THE DANGOTE GROUP
The world is facing unprecedented problems due to the coronavirus (COVID-19). Once the pandemic is over, there is no doubt that focusing on corporate philosophy and social contribution activities will be primary factors for global brands.
How have companies around the world been dealing with COVID-19, and what is their vision and the mission behind their activities to encourage people? 

In Japan, it has been reported that an increasing number of tough situations are on the horizon for Africa. So, we decided to focus on an African business leader and his company, and researched their activities and the ways of communication they have used to deal with this crisis. We hope that this article offers global companies some tips regarding corporate brand story, CSR activities, and communication backed by corporate philosophy.

Contributions to the Solution of Africa's Problems by African Businessmen

Aliko Dangote says that the successful achievements of many African leaders who have become employers are tied into a history of struggle and commitment. Many of these leaders have achieved great things through difficult times, sticking to their business objectives and becoming leading employers of both local and international professionals.

Aliko Dangote was born in 1957. He grew up in a wealthy, upper-class Muslim household in Kano State, Nigeria. His maternal grandfather, Sanusi Dantata, had made his fortune trading commodities such as oats and rice, and was one of the wealthiest people in Kano State. After Dangote's father passed away in 1965, Dangote was raised by his grandparents, and his grandfather, Dantata, instilled an entrepreneurial spirit in him from an early age. Dangote once said, "I can remember when I was in primary school, I would go and buy cartons of sweets [candy] and I would start selling them just to make money. I was so interested in business, even at that time." He went on to obtain a degree in business studies and administration at Al-Azhar University in Cairo, Egypt, which is renowned as one of Islam's most prestigious universities. 

Upon graduating at the age of 21, Aliko Dangote borrowed $3,000 from his uncle, which he used to import and sell agricultural commodities in Nigeria. This venture was a success from the start, and allowed him to repay the entire loan within just three months. In 2019, FORBES estimated Dangote's net worth to be $10 billion. This made him the richest billionaire in Africa.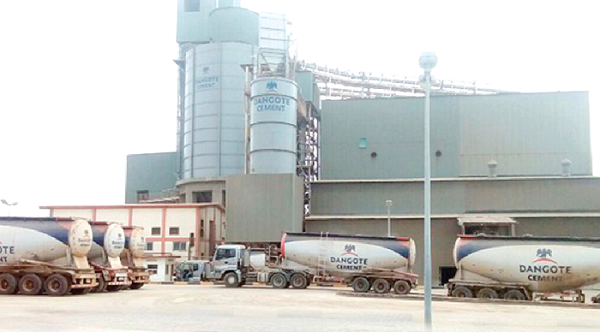 *Cement Factory in Nigeria, Cameroon, Zambia, Ghana, and East Africa.

Most of Dangote's investment goes to charity and toward supporting research that contributes to saving lives and breeding innovators and scientists across Africa. He also launched the Dangote Foundation. The Dangote Foundation is the Corporate Social Responsibility arm of the Dangote Group. The Foundation is responsible for contributing over $100 million in charitable funds to several causes in Nigeria and other countries in Africa over the past four years. According to the Dangote Cement website, starting in May 1981 as a trading business with an initial focus on cement, the Dangote Group diversified over time into a conglomerate trading cement, sugar, flour, salt, and fish. By the early 1990s, the Group had grown into one of the largest trading conglomerates operating in the country.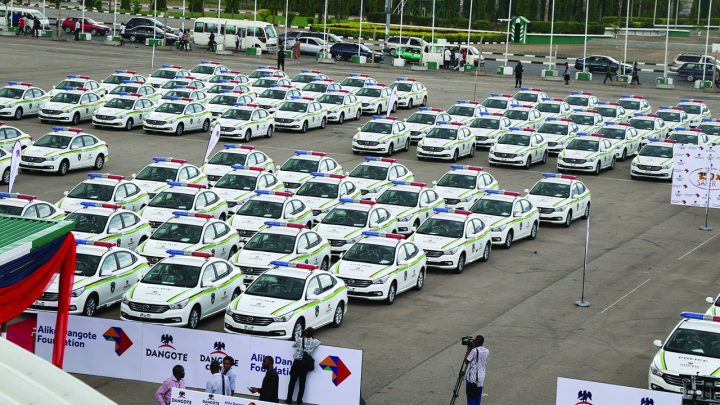 *Donation of 150 Cars to the the Police for Public Life and Safety

Medium of Communication with Employees During Pandemics

Aliko Dangote's communication medium with his employees and the rest of the society has always contributed to his success and business strategy. He made it his objective to BE TRANSPARENT – to openly and proactively share relevant information with employees in a timely, frequent, and digestible manner; to give accurate information regarding what is happening, what the impact is and how the company is handling it; and to offer clear guidance on what workers should be doing.

Messages are CONVEYED WITH AUTHENTICITY – new concepts for the business community and their effectiveness in generating positive employee outcomes have been supported by industrial research. Tough times like the COVID-19 pandemic pose monumental challenges to Dangote in leading his companies and foundation.

In an era where the uncertainties outweigh the certainties, sometimes he simply doesn't know what to do. He shows empathy for everyone he come across as a business leader, and does not look down on anyone – the value of empathy is one of the most recurring themes in Dangote's analysis of best practices.

He has examined leadership communication as a plan for organizational change – such as a merger – and found that communicating with EMPATHY enhances employee trust and encourages commitment to and acceptance of that change.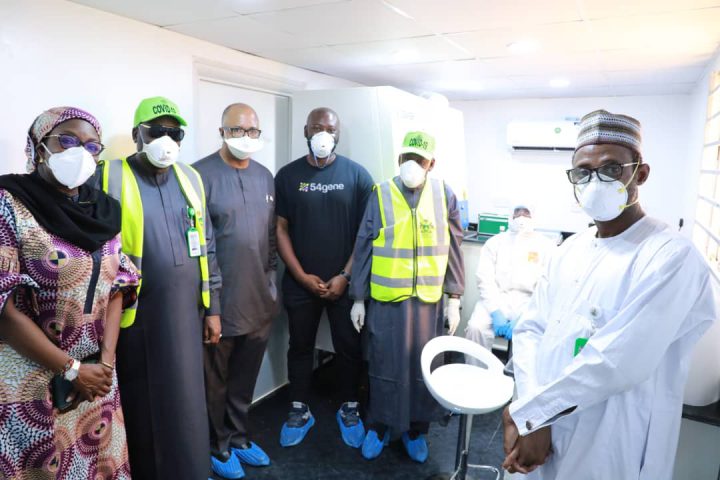 The COVID-19 pandemic posed a difficult challenge because employees faced enormous uncertainties and negative emotions such as fear, sadness, anxiety, and frustration. Dangote ensured effective communication with all his employees for the safety of the company and for business effectiveness. While other companies were laying off employees, Dangote ensured that his employees furthered the measures needed to combat COVID-19. His medium helps reduce workers' anxiety and form bonds with them by showing sympathy and empathy. He applied measures similar to those put in place during the Ebola epidemic.

He put PEOPLE FIRST with a great amount of respect. COVID-19 has been hitting companies hard, affecting all areas from productivity to profit. Dangote put employees' safety and health first. He regards his companies with a people-centered mindset that is crucial for the organization's survival and long-term development, as employees are the backbone of the organization and eventually create the organization's competitive advantage.

And finally, he DEMONSTRATES OPTIMISM – conveying positivity or optimism is an especially important leadership quality during challenging times, when it is easy for people to experience negative feelings and frustration. Leaders who convey an optimistic outlook in the tone of their communications and foster positive thinking motivate and inspire employees.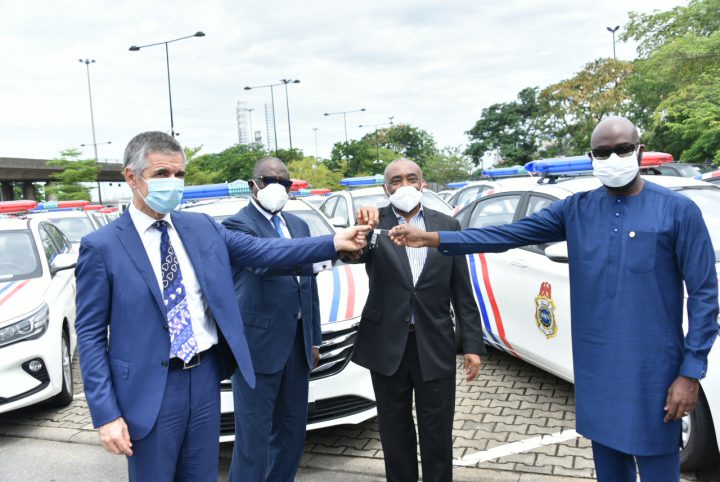 During extraordinary times like the COVID-19 pandemic, Dangote, as a business-minded leader, has set the scene for other renowned business leaders of Africa to develop effective communication skills like these to instill trust, confidence, and hope in their workers – essential ingredients to winning the war against all crises in Africa and around the globe.

Aliko Dangote's Strategy, Vision, Mission and Values

The company information found in A-D below is from the Dangote Cement website.

A. Company History & Strategy
The Dangote Group is a diversified and fully integrated conglomerate with an annual group turnover in excess of US$4 billion (2016). The Group has vibrant operations in Nigeria and other countries in Africa across a wide range of sectors including cement, sugar, salt, condiments, flour, packaging, energy, port operations, fertilizer, and petrochemicals. Our core business focus is to provide local, value-added products and services that meet the basic needs of the populace through the construction and operation of large scale manufacturing facilities in Nigeria and across Africa. We are focused on building local manufacturing capacity to generate employment, reduce capital flight, and increase local value addition.


The Dangote Group corporate strategy has evolved as its businesses have grown, matured, and diversified into new sectors and regions over the last four decades. Starting out as a bulk commodity trading concern in the 1970s, encouraged by the liberalized commodity import regime of the then government of Nigeria, by the late 1990s our strategy had transformed to a focus on manufacturing for import substitution. The early 2000s saw the Group's approach further adjust to strategic asset acquisition in line with the then government's privatization policies. This set the stage for the next phase in our strategic plan for the next decade: expansion and backward integration.

IN PURSUIT OF SELF-RELIANCE: The Dangote Group is striving for self-reliance in Nigeria in all the sectors in which it operates, and has drawn up ambitious plans to set up world-class projects in new realms such as agriculture, petroleum refinery & petrochemicals, fertilizer, and telecommunications. The Group has almost single-handedly taken Nigeria to self-sufficiency in cement and is expanding rapidly across Africa, helping other countries achieve the same.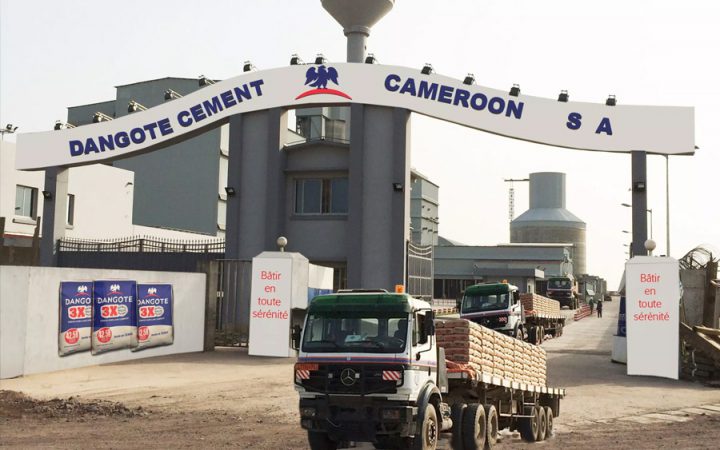 B. Company Vision

To be a global leader in cement production, respected for the quality of our products and services and for the way we conduct our business.

C. Company Mission

To deliver strong returns to our shareholders by selling high-quality products at affordable prices, backed by excellent customer service.

To help Nigeria and other African countries toward self-reliance and self-sufficiency in the production of the world's most basic commodity, by establishing efficient production facilities in strategic locations close to key growth markets.

To provide economic benefits to local communities by way of direct and indirect employment in all countries in which we operate.
To lead the way in areas such as governance, sustainability, and environmental conservation, and to set a good example for other companies to follow.

D. Company Values

Customer Service:As a world-class organization, we understand that we exist to serve and satisfy our customers. Accordingly, our customer orientation reflects intimacy, integrity, and learning.
Entrepreneurship: We continuously seek and develop new business, employing state-of-the-art methods to retain our market leadership.


Excellence: We are a large organization, working together to deliver the best products and services to our valuable customers and stakeholders. To achieve this, we demonstrate teamwork, respect, and meritocracy.


Leadership: We thrive on being leaders in our business, markets, and communities. To drive this, we focus on continuous improvement, partnership, and professionalism.


Contribution to Pandemics
The Aliko Dangote Foundation (ADF) pledged the sum of N200 million to support the current effort of the Nigerian government toward curbing the spread of COVID-19 in the country.
The ADF's intervention is considered the largest single donation by a corporate organization in the country to contain the spread of COVID-19 since Nigeria recorded its first index case in Lagos, Nigeria.



According to the CNBC Africa website, Managing Director and Chief Executive Officer of the Aliko Dangote Foundation Ms. Zouera Youssoufou, represented by Health and Nutrition Program Officer Maryam Shehu-Buhari, at a donor-coordinating meeting in Abuja on Tuesday, March 3, 2020 said the donation was part of the Foundation's cardinal objective of partnering with governments at all levels against the dreaded disease in Nigeria and the rest of Africa. The Foundation is one of the only humanitarian institutions to have made a monetary pledge.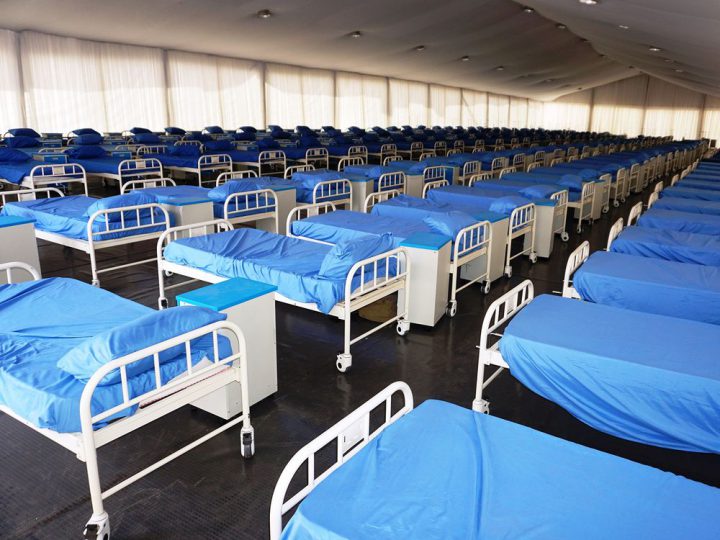 *Mobile COVID-19 treatment centers funded by the Aliko Dangote Foundation

Aliko Dangote has contributed more than 10 million USD to saving lives through providing food, medical kits, and setting up research laboratories across Nigeria and other countries in Africa to fight malaria, malnutrition, HIV/AIDS, Ebola, and now COVID-19 and other contagious diseases. Bill Gates has signed an agreement with Aliko Dangote to help reduce malnutrition and other illnesses across Africa.

In an effort to change lives and build professionals, the Foundation has sponsored more than 100 health workers over the last two years for advanced training and graduate education. This is in addition to others who have benefited from Masters degrees and Doctorates related to Dangote's business empire.


Written by:
Momo Duduboy Taylor, Jr
Writer(Liberia, West Africa)
Nathaniel Moikabi
Assistant(Kenya, East Africa)
Proofread and Edited by:
Hide Horiuchi / Katy Horiuchi (H&K Global Connections Inc.)

Copyright: H&K Global Connections Inc.