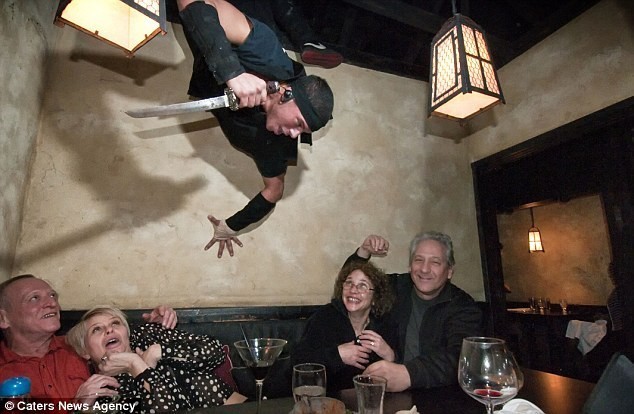 Bold new venture! Ninja house coexists with restaurant?
Ninja × Ninja House × Ninja Actors × Projection Mapping
Even in Akasaka at the heart of Tokyo, you may not notice a restaurant that blends in with its surroundings. If you do find it, standing at the entrance, you'd never guess that well-known people, including Hollywood movie director Steven Spielberg, have discreetly been led here to dine. It's called Ninja Akasaka. Like any good ninja house, it has a stealthy entrance. Even if you check where you are with GPS on your phone, you may not be sure you've arrived!  This suits ninjas, who like to stay in the shadows: they feel at home with the unique design. Ninja Akasaka has become popular by word of mouth, and you may find it hard to get a reservation.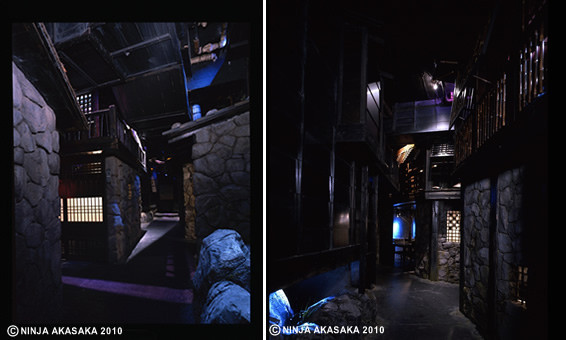 Before long, ninja had infiltrated the U.S.A., and Ninja New York, a second restaurant opened. The opening of the Akasaka restaurant made me a fan of ninja restaurants, so I also made my way to Ninja New York in Manhattan. Up close, it was a treat to see how ninjas also delight people in New York.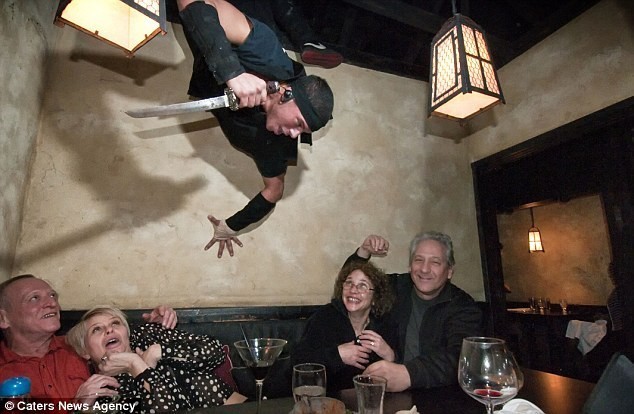 Then, in 2009, Ninja Kyoto, a third venue for ninja dining opened. Ranked No. 1 by U.S. Travel+Leisure — a magazine with a circulation of one million — Kyoto is has stubbornly kept its character even while becoming an international city. It truly stands out as one of the world's most desirable destinations. Here, at Ninja Kyoto, you sense the grand aspiration of the producer to further extend the entertainment–dining concept on the world stage.

This year, the sightseeing promotion association of Iga and Koga, the homeland of ninja arts, held events in collaboration with Ninja Kyoto. Naturally, this happened February 22, NinNinNin no Hi, Ninja Day. (In Japanese, two is pronounced as ni and the sound n can be used to link numbers in dates: 22/2.) On this day, in the heart of the city at Shinkyogoku-Kawaramachi, my family and I sought out Ninja Kyoto. Finding ourselves in the midst of ninja fans from all over Japan, we saw the arrival of ninja who, they said, had come all the way from Tokyo the old-fashioned way, pulled by rickshaw.

Inside, as at Akasaka and Tokyo, drawing on ninja arts, ninpo table magic was performed by magicians in ninja costume. But now the entertainment had been scaled up to include dancers and jidaigeki actors who, aided by effects created by projection mapping, led the audience into a bewitching new world. It was a very impressive example of how, with imagination, ingenuity, and technology, an already good thing can be made better. It also shows that with some imaginative repositioning, especially by using dancers as ninja, the scope of work can been broadened.
Ninja projection mappingVideo of performances enhanced by projection mapping
Our preteen son completely entered the world created in Ninja Kyoto. He was even able to cajole his parents into buying him a sword from the gift shop by practicing persistence ninja charm.

It is clear that Disney-admiring producer Takanori Aiba knows what he's doing. The space he created left us all stimulated and amazed.
(Creative Marketer: Hide Horiuchi, H&K Global Connections Inc.)