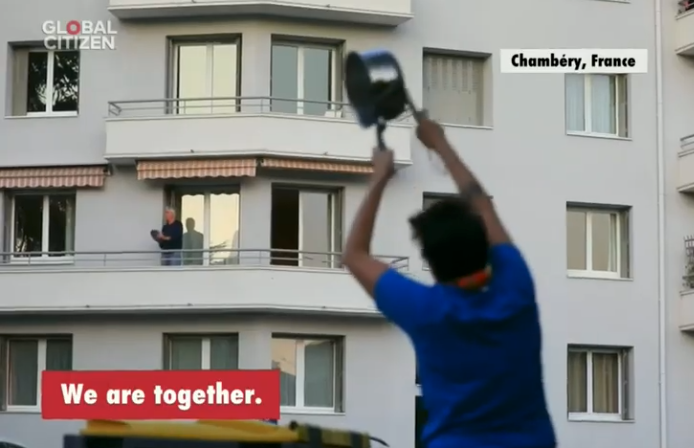 One World: Together At Home -The incredible charity event that united the world with music during the COVID-19 crisis-
In April 2020, a global music charity event was held in an attempt to support medical professionals who continue to save lives amid the world's confusion caused by the outbreak of the new coronavirus. The event was named "One World: Together At Home."
Led by Lady Gaga, some of the world's biggest artists held a live streaming event for nearly eight hours, which was broadcast in 175 countries around the world.
The event was a great success, with companies and sponsors collecting $127.9 million in donations to charity organizations around the world that support the WHO, healthcare workers, the homeless, and the vulnerable.
I was very excited and learned a lot from an event like this which could bring about a social transformation that goes beyond the English language. I was also fascinated because it was organized so strategically and thoroughly. It wasn't just a normal charity event.
https://www.youtube.com/watch?v=nTd5Trp1pbg

People say that PR and CSR communication after COVID-19 will change significantly for companies and NPO groups, but I think that everyone is looking for some kind of concrete solution.
People also say that the importance of communicating the corporate philosophy inside and outside the country will increase, but it is not easy.
I would like to write this blog with 5 different sections as below, focusing on the attractiveness of "One World: Together At Home," in addition to the viewpoint of corporate communication.


1. The power of music and words
2. Collaboration of media and companies
3. Who is the organizer, "Global Citizen"?
4. The leader is the mission practitioner
5. Post COVID-19 corporate communication

I think that COVID-19 will give people involved in corporate business planning, PR, and communication a chance to rethink how social contribution activities should take place in the digital age, and how to send messages. I would like to introduce some of the event organizers in this blog, so please feel free to contact the Global Citizen if you are interested.



The power of music and words

"One World: Together At Home" was an online event, but it had an incredible 21 million live viewers.
The key to success is to harness the power of "music," which is a universal word.
The cast members of "One World: Together At Home" are amazing;
The Rolling Stones, Paul McCartney, Stevie Wonder, Elton John, Celine Dion, Taylor Swift, Andrea Bocelli, Camila Cabello, Sam Smith, Shawn Mendes, Billie Eilish, and led by Lady Gaga … so many big celebrities around the world participated.
Click here for a video of "One World: Together At Home"

As suggested in the event name, these artists played music at home, allowing viewers to enjoy first-class music and performance with a sense of familiarity.
Other representatives from the United States, such as former first ladies Michelle Obama and Laura Bush, actors Sarah Jessica Parker and Samuel L. Jackson, Bill Gates, Oprah Winfrey, and other participants also joined the event.
The most important parts of the video are the messages conveyed through scenes of doctors and nurses working at the forefront of healthcare around the world. These videos, some of which were taken using smartphones, were introduced along with the music.
Not only the artists but also the people around them contributed "what we can do" using familiar music and places. The Rolling Stones drummer Charlie Watts gathered tools he had at home and performed on an air drum because he didn't have his drums at hand. Apparently, he asked his maid to video his performance on his iPhone.
Click here for a video of the Rolling Stones
The feelings of the people at the forefront of the crisis were conveyed effectively and touched viewers around the world. I felt that the people of the world were uniting their minds and becoming empowered to move toward the same goal.
Collaboration by media and companies

"One World: Together At Home" was broadcast in 175 countries around the world, not only online, but also on 60 broadcasting networks. The last two hours were broadcast by the three major US television networks (ABC, NBC, and CBS), and even cable TV channels were broadcasting at the same time. It would be unheard of in Japan for multiple national TV stations to all broadcast a charity event at the same time.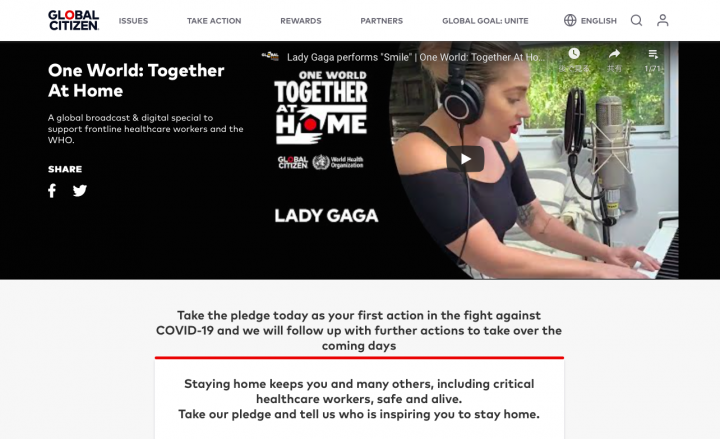 https://www.globalcitizen.org/en/connect/togetherathome/
In Japan, the event was broadcast on Fuji TV and SKY PerfecTV!, and it was also distributed worldwide across all media including streaming services such as Apple, Amazon, Hulu, etc. for free.
There were also many donations from sponsor companies. The Rockefeller Foundation, Bloomberg Philanthropies, Apple, Johnson & Johnson, P&G, Citibank, Coca-Cola, Pepsi, GlaxoSmithKline, the Lego Foundation, IBM, Cisco, Verizon, and others made pledges.
Prestigious global companies collaborated on this event, transcending the boundaries of "competition."


Who is the organizer, "Global Citizen"?

We wonder, who hosted such a large and unprecedented event?
Why did they get so much support in just two and a half weeks for preparation?
It is due to the connections and opportunities of various people.
The event organizers were the WHO (World Health Organization) and Global Citizen, headed by co-founder and CEO Hugh Evans.
The group Global Citizen is not very well-known to us Japanese, so what kind of organization is it?
Founded in 2012, Global Citizen is an organization focused on "taking action" to solve global social issues such as poverty. Since its establishment, it has been successful in many events and actions as a platform where "Global Citizens" can be united around the world.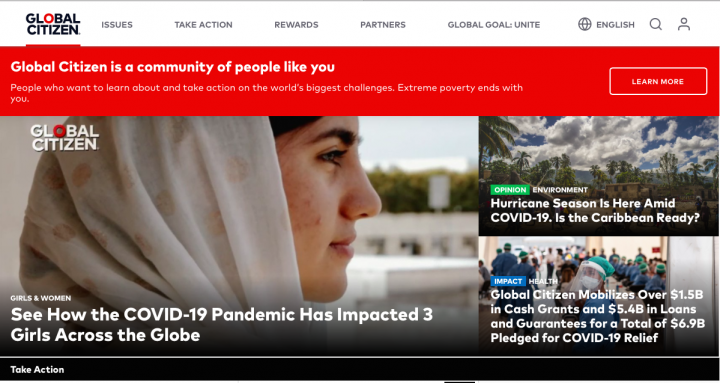 Check the Global Citizen website 

The leader is the mission practitioner

In addition to the "music," the key to the success of this event was not only the ability and network of this organization, but the fact that their "cause" was clear and anyone could sympathize with it.
I researched Hugh Evans, CEO of Global Citizen. He said in his TED talk that he was born in Melbourne, Australia, and he was an extremely curious child.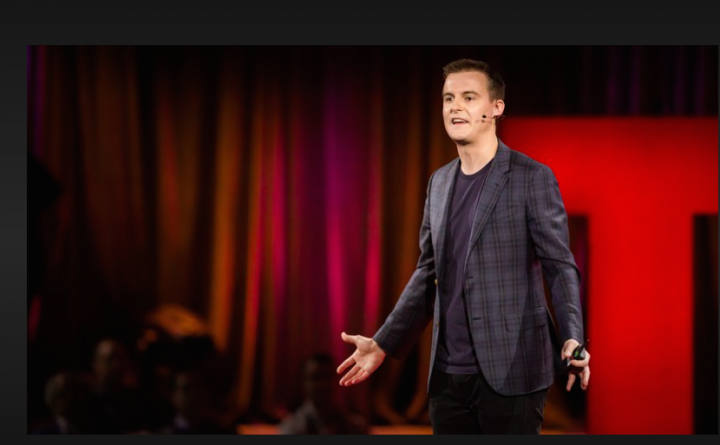 https://www.ted.com/talks/hugh_evans_what_does_it_mean_to_be_a_citizen_of_the_world
At the age of 12, he participated in a fundraising event for developing countries.
The following year, he raised the highest amount of money among all Australian schools. At around the age of 14, he was invited on a field trip to the Philippines for his achievement. He saw the extreme poverty in the slums around Manila with his own eyes. This was a life-changing experience for him.
After that, he was involved in regional development projects, school construction, and HIV and AIDS measures. In 2012, he established "Global Citizen," seeking sustainable goals.
He is a man who holds various events and festivals with the high goal of "diminishing extreme poverty in his generation."
He says, "Global citizens are members of humankind, willing to act based on their beliefs and challenges to fight for the world's major problems."
We can say that Hugh Evans himself is a practitioner of ​​"Global Citizen."
He expressed his feelings about this event as follows:
"We honored and supported the heroic efforts of local healthcare professionals by organizing 'One World: Together at Home.' This event is a global event to end COVID-19, aiming to be a 'source of unity and encouragement for the people' in the fight. Through the power of music and entertainment, I admire those who 'endanger one's health to protect someone's health.'"
The outbreak of the new COVID-19 has provided an opportunity for everyone to think about health and life. That's why I think many people empathized with Hugh Evans' thoughts and words to give courage and hope to those who take on challenges while putting their lives at risk.

Post COVID-19 Communication
So far, I have written about the "One World: Together At Home" event.
How did you feel about it?
In the face of a global crisis, as shown in the name of the event, "the world has become one, based at each home," the event was successful under the social cause.
As an audience member, I was very encouraged and felt "this world is worth living in."
I was also impressed when receiving hundreds of welcome comments from all over the world after posting online to this community,
At this event, artists and companies, charities, the United Nations, celebrities and the general public all joined together. In the post COVID-19 era, more creative perspectives are required, not only domestically but also around the world, transcending organizational and individual frameworks, and combining people's strengths to disseminate various values ​​in one message.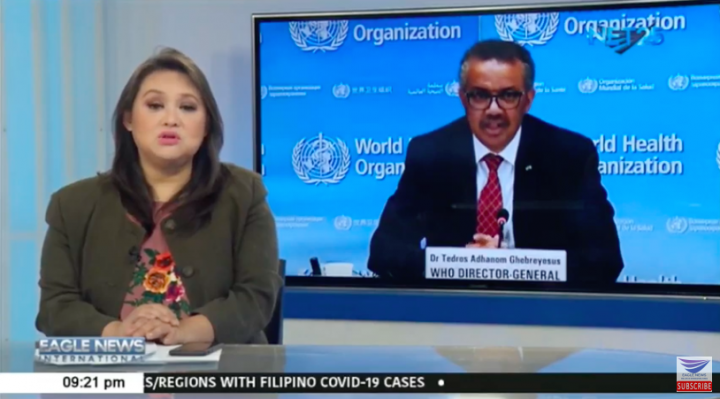 https://www.youtube.com/watch?v=-HuhPVb4lxk
In these times, we can send messages that affect the world regardless of scale by making the best use of high-quality content and digital media
We operate H&K Global Connections in Japan. We hope that we can contribute to the creation of a better society through corporate brand stories and good content production.
We hope that your company's messages and content will encourage, grow, and lead to better business and society.
Please share with us a recent experience you have had in which you felt a positive message or an activity that touched your heart.
Text by Hidetaka Horiuchi / Edit by Katy Horiuchi
(H&K Global Connections Inc.)